Making Your Travel Seamless for Your Disney Cruise Line Vacation
There is truly something for everyone on a Disney Cruise – from relaxing "me" time for the adults to imaginative fun for the kids and exciting family time for all. Every voyage includes the attention to detail and world-class hospitality that only Disney can provide. There are countless options when it comes to cruising with Disney Cruise Line. Why spend hours researching and gathering different opinions from resources all over the Internet? We are experts. Let us handle everything for you!!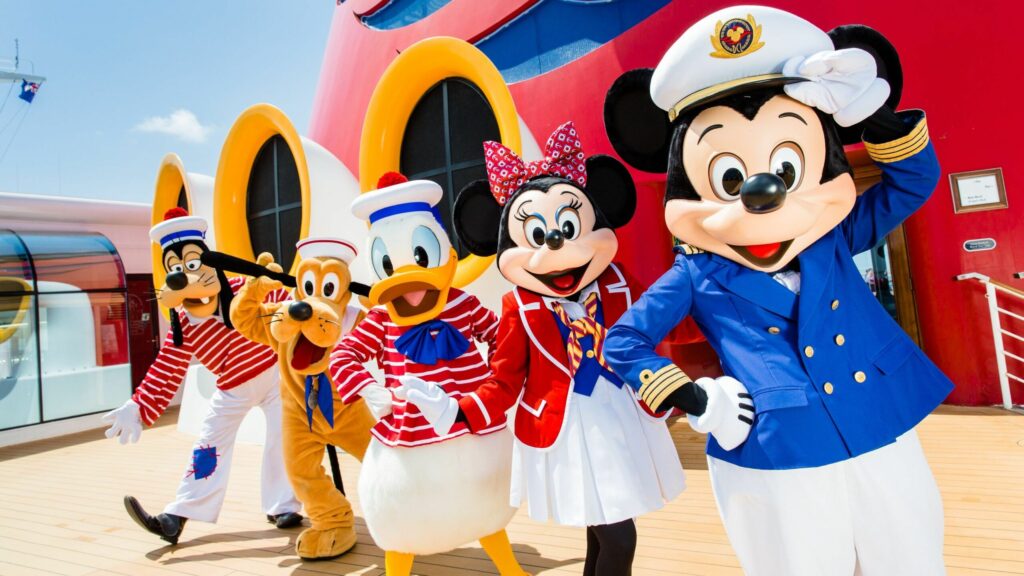 CONCIERGE SERVICES
Below are serviced our team provides at no charge to all of the clients that book their sailings through us. How can we do this? When you book your Disney Cruise with us, we are paid a commission for assisting you.
Finding Your Perfect Fit 
We listen to your needs to design your vacation around your family. We ask questions you may not consider when selecting your stateroom.  One size doesn't fit all and every vacation will look completely different.
Planning Conference
We discuss all things magical during this call or meeting. We discuss dining rotations, Port Adventures, kids' clubs, and much more! Any questions you have, we have the answers! And don't worry! We are available via email, messaging, or phone before the trip. This conference is set aside to go over your wants, needs, and questions.
Private Client Portal
Only our clients have access to our client portal. Within this portal, you can see all of the details of your reservations, submit payment requests, excursion requests, and much more. You will have access to private blogs and videos that are made just for you. We are constantly adding new content for our clients so we can create the best experience possible.
Pre and Post-Cruise Stay
We arrange all pre and post-cruise overnight stays or Vacation extensions to your cruise.
Transportation
We determine and book the best value for transfers for your family. Whether it is transferred directly with the supplier or a private transfer, we have you covered.
Check-in
We assist with your online check-in and book any adult dining, character experiences, excursions, spa treatments, and much more at your request.
Port Adventures  
Activities on shore are a large part of cruising! You want your excursions to complement your family's activity level and ability. We can advise you on which adventures are best suited for your family. We also work with several excursion companies that may offer something that is not available through the supplier.
Bootcamp
Much like our Planning Conference, this time is set aside just for you! We go over your magical vacation from top to bottom.  We will go over any questions you have, transportation tips, and the best places to watch fireworks at sea. We will discuss the Disney Cruise Line app and even how to save money on future cruises by booking onboard.
Price Monitoring
We never want our clients to pay more than they should. We constantly monitor your reservation for any discounts that may apply.
Pixie Dust
We take pride in making every trip magical for our guests. You never know what magic we will create just for your family! It is truly our pleasure to assist you!
Continued Magic
Although we recommend completely disconnecting from the real world while cruising, sometimes there are questions or requests while in port. We are available to answer any questions or assist you while you are cruising. We are just a message away!
---
TRANSFER THE MAGIC
Did you already book your Disney Cruise Line Vacation directly with Disney but feel LOST on what to do? Do you feel like you are in over your head? Don't worry! If you booked your trip in the past 30 days, and have not paid in full, we can help by transferring your reservation to us. Nothing with your reservation will change. You will receive all of our amazing Concierge Services as well as our amazing Disney Cruise Line Exclusive Promotion and there is no additional fee.
---
So what are you waiting for? Contact us today to start planning your magical Disney vacation! We can't wait to help you plan a magical vacation with memories that will last a lifetime!