You know the travel bug is contagious, and if you're like us, you love sharing it with everyone! Now it's easier and more rewarding than ever to share the joy of travel with our new Referral Bonus Program. For every friend, you send our way that books and completes travel, we will credit your account with $25 in future travel credits. Refer as many friends as you like — there's no limit!
Redeem all your referral credits on one trip. That's right—refer five friends, and get $125 off your next trip. Magical, right? Refer enough friends and you can travel for free!
Transfer your unused credits to somebody else. Can't find the time to travel? Pass along some or all of your credits to friends or family for a terrific travel discount!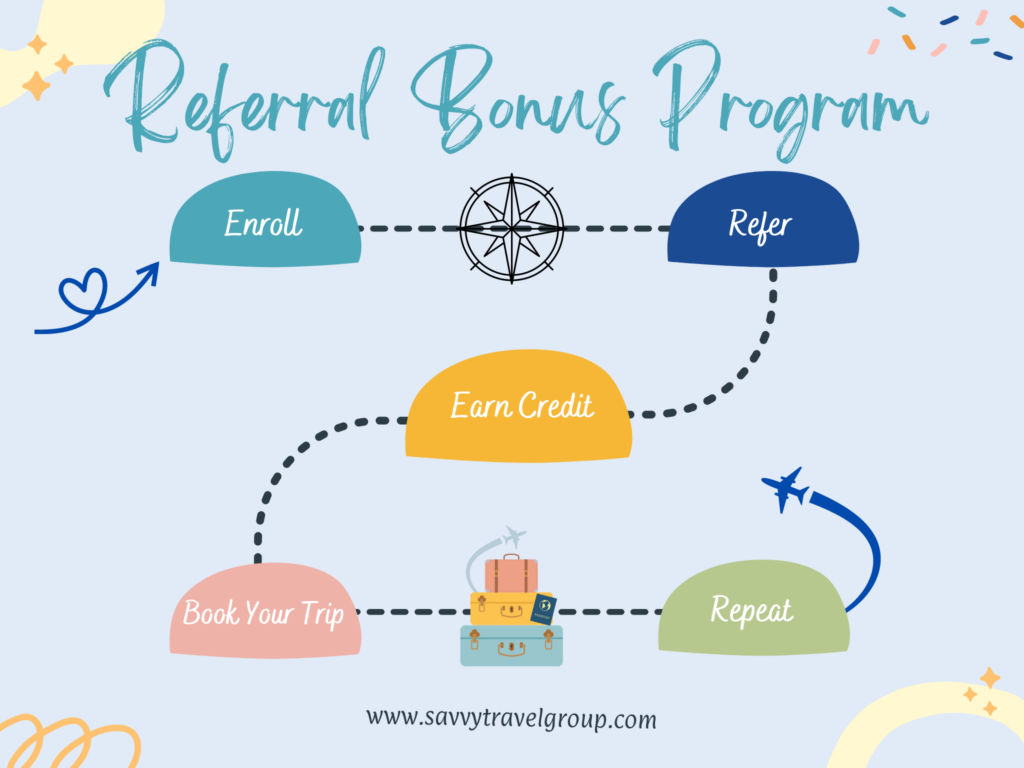 How it works:*
You must enroll in our program – click here to register
The friend you refer must be a new client to Savvy Travel Group
Your friend books their vacation with us

Vacation Qualifications – Any booking to destination that is at least $2000 in cost, not including tax, air fare, transfers, gratuity, or shore excursions. If you refer someone to us that is only purchasing tickets to Walt Disney World, minimum requirements are a three day ticket. No one or two day tickets will earn credit

Your friend gives us your name and email address when they book, or within 7 days of booking
Upon your friend's completion of travel, we issue you $25 in credits
Use the credits towards your own future vacation or a scheduled vacation. Or, gift them to a family or friend.
Questions about the program? Don't hesitate to contact us.
---
The Fine Print
* You get the gist. But please note all the rules that apply to this program:
Referring Clients (you) must enroll in our program. For each eligible new client you refer (per above), we'll issue your $25 credit upon completion of travel and notify you by email. This email serves as your record of the credits. For each new client, only one past client may claim credits.
Referred Clients (your friends) must be new to Savvy Travel Group. They must not have booked or traveled with us in the past and must not have an existing booking for future travel. Referred clients must book a vacation with us. Our other products or services, including ticket-only purchases, VIP Tours, excursions, Planning Services, etc. do not qualify for this program.
Your referred client gives us your full name and email address at the time of booking. If this information is unavailable at time of booking, it must be provided by 7 days after date of booking. Otherwise, the credit is no longer available.
We'll verify that you're enrolled and that your referred client is new to Savvy Travel Group.
Can I really travel for free? Yes! Use your credits toward all charges on your vacation. (Personal expenses, excursions or services purchased on vacation, and any other costs not part of you vacation package are your own responsibility.)
Redeeming Credits: Cash in as many credits as you'd like towards a new booking of a vacation package. If you have accumulated more credits than the total value of the vacation, your remaining credits will carry over to future travel. Use credits for yourself or for anyone traveling with you, or transfer any of your credits to anyone you choose, provided you notify us first in writing. Credits used toward a purchase which you later cancel are forfeited. Credits are valid for up to 36 months from the date of issue and are not redeemable for cash.
We reserve the right to amend or discontinue this program at any time without notification.
Your privacy: When you provide us with the name and contact information of Referring Client or Referred Clients under this program, we will only use and store that information to verify their status as a booked traveler and/or eligibility to participate for this program, and not for any other purpose. To learn more about how we collect, use, and safeguard your personal information, please see our Privacy Policy.